The dawn-to-dusk hartal called by around 30 Dalit organisations has hit life across Kerala, with violence being reported from many places and the police arresting several supporters all over the State.
At many places, the hartal supporters blocked vehicles and forced closure of shops. Private buses remained off the roads in most places with very few buses of the Kerala State Road Transport Corporation (KSRTC) plying.
KSRTC Convoy Services on Harthal Day
In the State capital, government offices functioned with skeletal staff. Shops on the arterial MG Road remain closed. At Kollam and Thrissur, the hartal supporters pelted stones at KSRTC buses. In the State capital, there was an altercation between traders and the hartal supporters who tried to force closure of shops at the normally busy Chalai market. The KSRTC was forced to suspend services from the Thampanoor central bus terminal after operating the services for sometime in the morning.
The protesters are demanding to conduct a probe in the incident of shooting to death Dalits who took part in the Bharath bandh, and to provide compensation for their families. They are also demanding to reinstate the SC/ST Act to its previous form.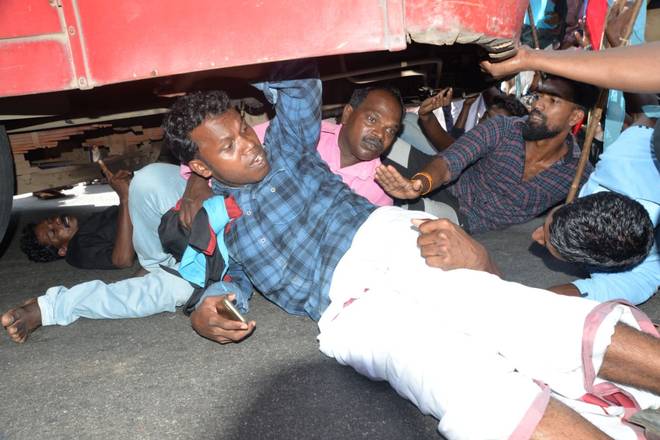 The hartal has been called by Kerala Cherama Sambava Development Society, Akhila Kerala Cheramar Hindu Mahasabha, Natinal Dalit Liberation Front, Dalit Human Rights Movement, Kerala Cheramar Sangham, and Social Liberation Front.